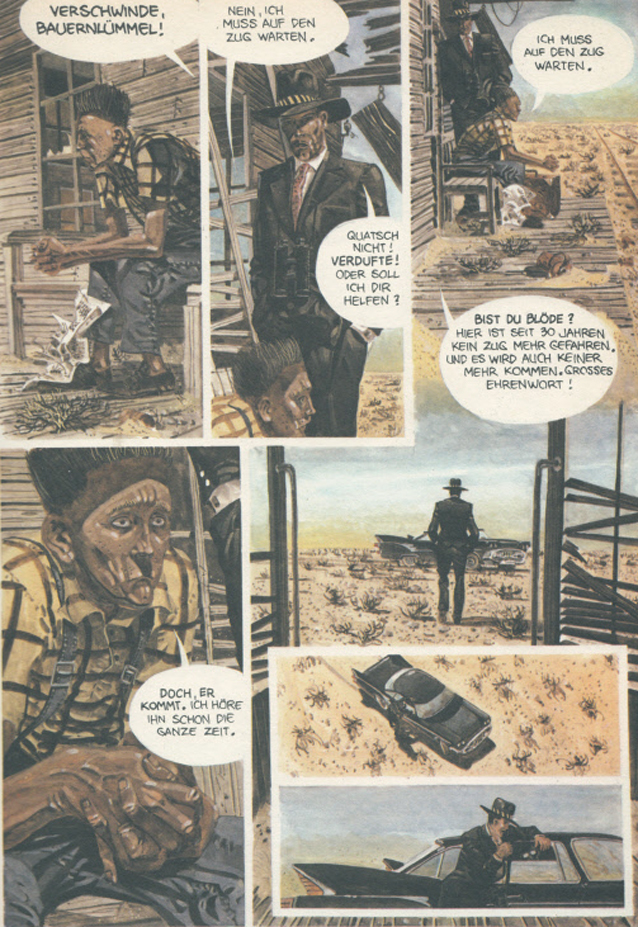 Der Mann war ein Gangster. Seine Jungs hatten sich den verlassenen Bahnhof ausgesucht um sich mit eine anderen Gang zu treffen. Geschäfte. Er sagte dem Mann der wartete, er solle verschwinden. Hier käme nie mehr ein Zug vorbei. Aber der Mann wollte bleiben.
The man was a gangster. His guys had the abandoned railway chosen to meet with a different course. Business. He said the man was waiting, he should disappear. This never came by a train. But the man would remain.
該名男子是一個黑幫老大。他的球員必須選擇,以滿足不同的過程中廢棄的鐵路。業務。他說,該名男子在等待,他應該消失。這從來沒有來過一列火車。但該男子依舊。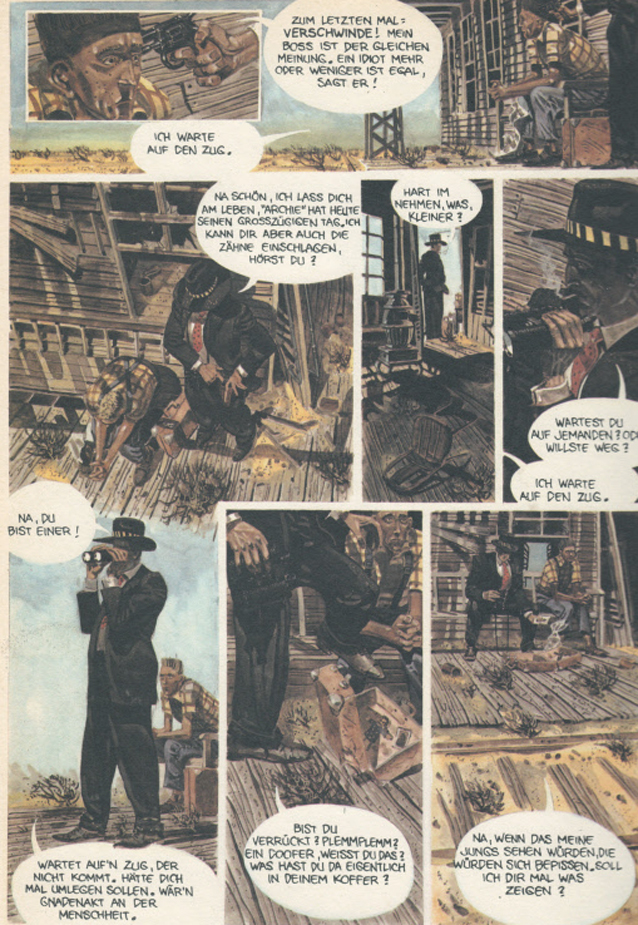 Nachdem der Gangster die Gegend beobachtet hatte sah in den Koffer des Mannes. Darin war nur eine kleine Puppe. Aus Lumpen zusammengenäht. Er fand das komisch und machte Witze. Der wartende Mann blieb ungerührt.
After the gangsters had observed the area saw in the case of the man. It was just a little doll. Sewn together from rags. He found that funny and made jokes. The waiting man remained unmoved.
在人的情況下,歹徒曾觀察到經過該地區看到的。這僅僅是一個小娃娃。從破布縫在一起。他發現,有趣的和製造笑料。等待的人卻不為所動。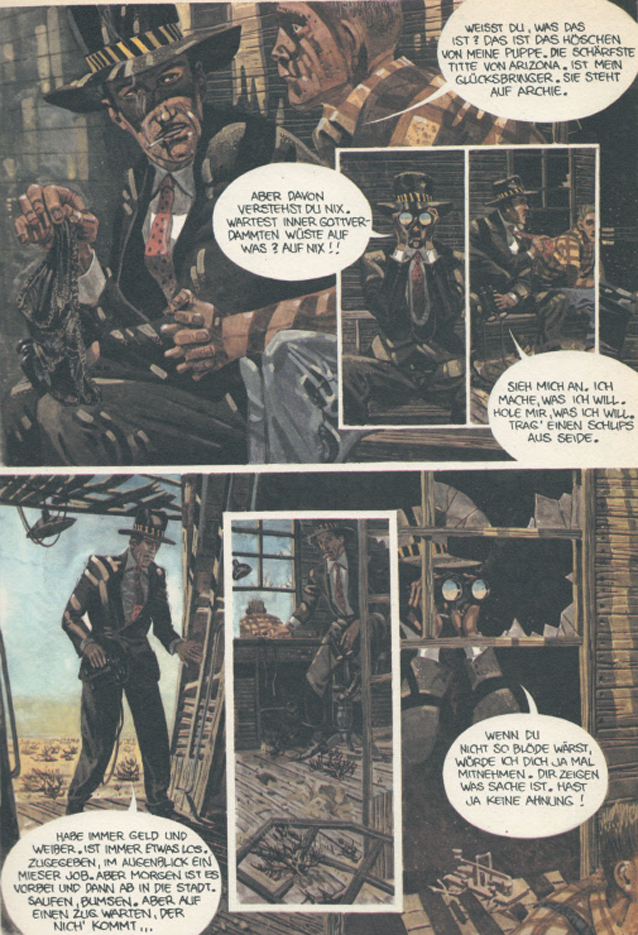 Dann erzählte Der Gangster was dort draußen in der Stadt los war und zeigte dem wartendem Mann das Höschen seiner Braut. Das würde der Mann alles versäumen wenn er auf eine Zug wartete der nie kommen würde.
Then The gangster told what out there in the city was going on and showed the man wartendem the panties of his bride. That would be the man to miss anything when he waited for a train that would never come.
然後,歹徒叫什麼那裡的城市是怎麼回事,並表現出男人的他的新娘的內褲。這將是該男子錯過任何東西,當他等待一列火車,將永遠不會到來。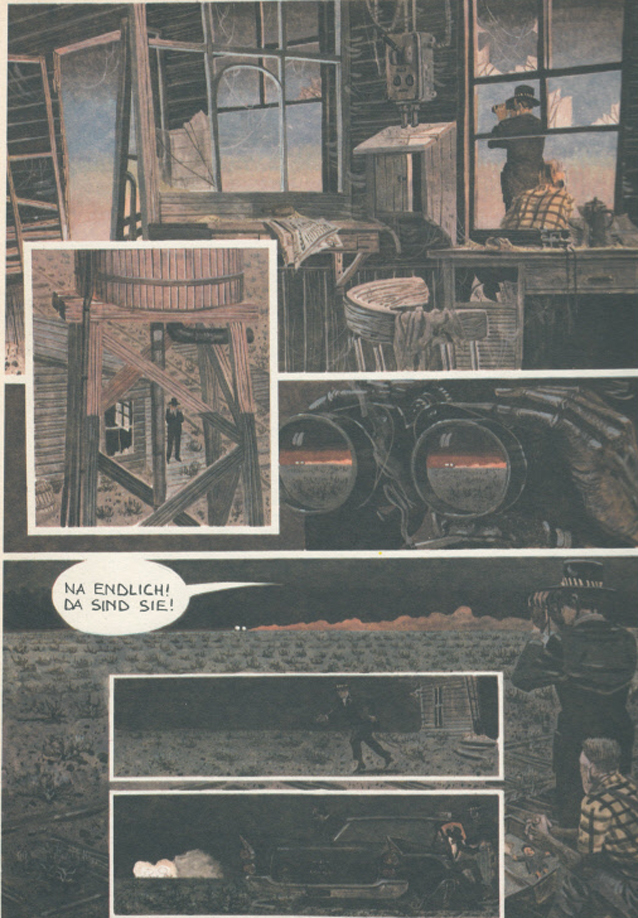 In der Nacht kamen die andere Bande um das Geschäfte zu machen.
到了晚上,周圍的商店樂隊其他跑來做。
At night, the other gang came to do the deal.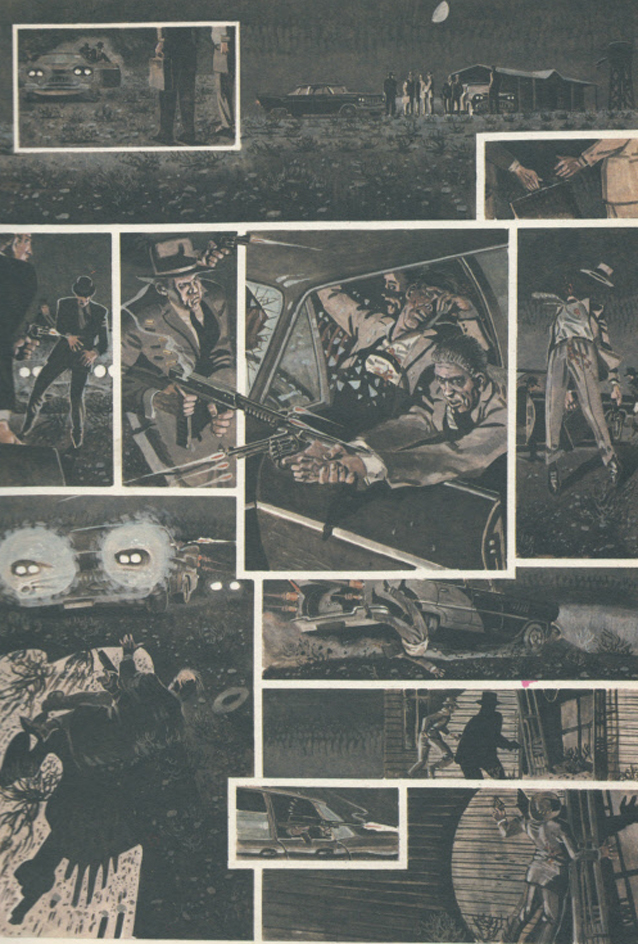 But the deal ran differently al it is the gangster had imagined.
Aber der deal liefen anders al es sich der Gangster vorgestellt hatte.
但交易跑到不同的人那是歹徒的想像。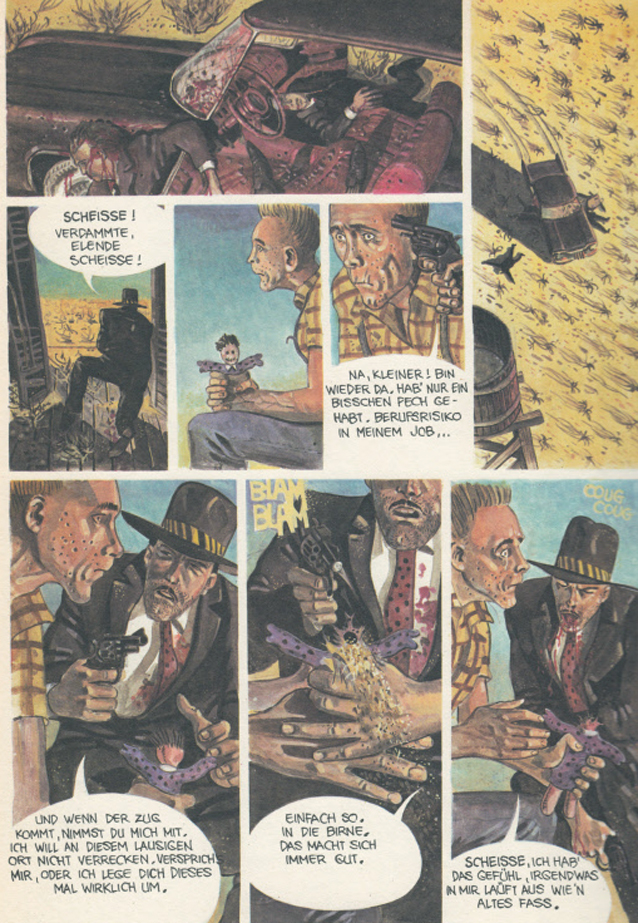 Und als die Sonne aufging war der Gangster in den alten Bahnhof zurück gekrochen und wusste das er sterben würde. Aber er wollte nicht in der Wüste in diesem alten Bahnhof sterben und er sagte zu dem Mann er solle ihn mitnehmen wenn der Zug käme. Zu diesem Zeitpunkt hatte er schon soviel Blut verloren das er Dinge sah, die es nicht gab. Er drohte dem Mann ihm genauso durch den Kopf zu schießen wie diese Puppe die er in der Hand hielt.
When the sun rose the gangster was crawled back into the old station and knew he would die. But he want not die in this fuckin desert in this old train station and he said to the man he should take him with when the train came. At this time he had lost so much blood that he saw things that did not exist. He threatened the man to  shoot him through his head like this doll which he held in his hand.
而歹徒是當太陽升起來爬回到老站,知道他會死。但他並沒有死在曠野中的這個老火車站和他的人,他應該跟他當火車來了說。此時的他已經失去了他看見不存在的東西這麼多血。他威脅該男子給他通過你的腦袋像這樣的娃娃,他的手裡拿著剛剛拍攝。
Aber dies Puppe war der einzige Freund den der Mann je hatte.Der einzige Begleiter seiner Einsamkeit.
但這個娃娃是人的唯一的朋友,這取決於hatte.Der唯一的伴侶他孤獨的。
But this doll was the only friend of the man. The only companion of his solitude he ever had.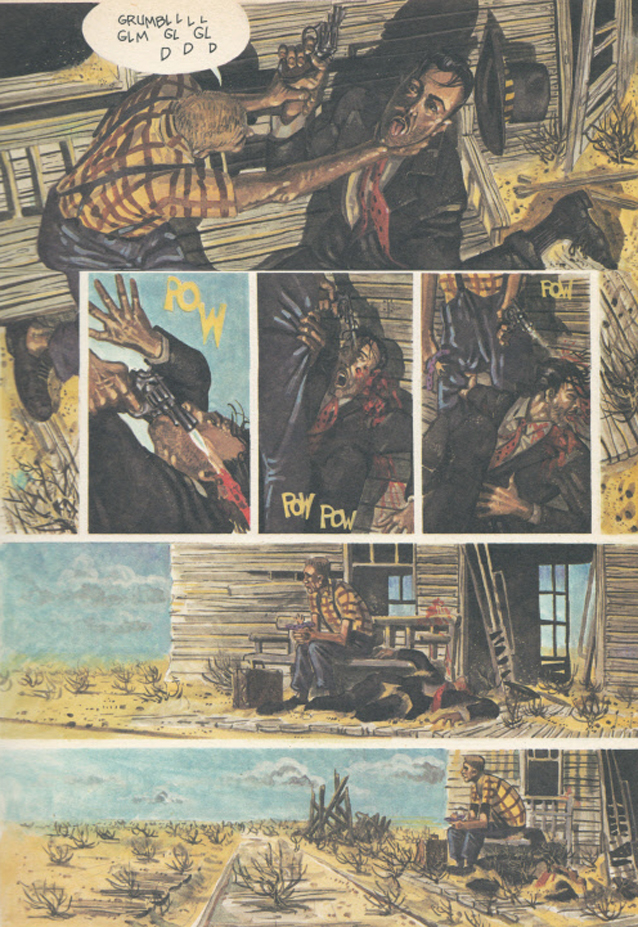 Die Jahr vergingen und er wartete immer noch. Auf den Zug der ihn mitnehmen würde in diese Welt dort draußen wo das Leben war.
The year went by and he was still waiting. On the train would take him to the outside world in this where life was there.
一年過去了,他仍然在等待。在火車上就帶他到外面的世界在這其中,生活在那裡。